OK, i admit i went to watch this movie due to the actress, patriotic mah. :P but i am still amused by her performance in "the eye".
the movie, according to a lot of audience, is a boring piece, a let down. but i, on the contrary, like this movie. disappointing? perhaps you went in with an expectation to see a typical horror movie, or wanted so much to be scared - maybe only the first half an hour of the movie satisfied your need, the rest is just a... well, letdown.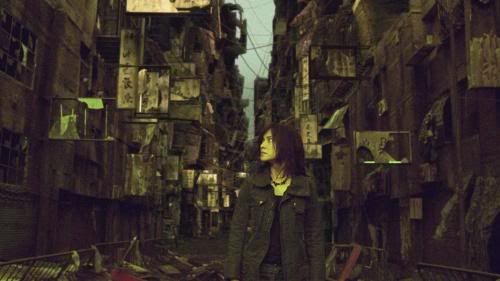 it is actually a serious arthouse movie, i mean the subtext - if not the text. it talks about the things, the people, the ideas, the memories that we've forgotten or taken for granted. all this forgotten materials are kept in a secret realm, and will get recycled once it's been totally forgotten. ok, it sounds illogical, but when all those sepia-toned images appeared in front of my eyes, i got such a nostalgic feelings - especially that merry-go-round and the old library. they sorta summarize what i wished for in my childhood, a mysterious circus and a room full of books to read... but when all these appear in a forgotten land, i was like getting a slap on my own face -- i have forgotten about all these things too!! i no longer got attracted to circus, fun fair, not even merry-go-round anymore. i no longer crave for books, no longer enjoy the fantasy world of a book anymore... what a shameful feelings.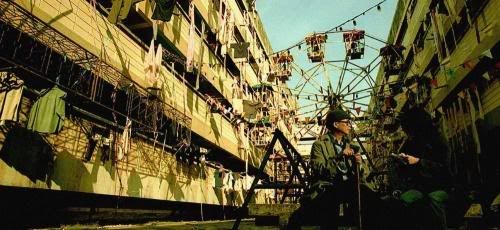 so, yes, it's the "recycled" movie idea of "Alice in Wonderland" or "Wizard of Oz", but this is a much gory one, and a more adult version. it talks about how Lee Sin Jie, the protagonist, accidentally bumped into this realm of forgotten land, and trying hard to find her way out. (i shall not be a spoiler and tell you how the story ends) the setting of the "wonderland", in this movie it's the "recycleland", is simply wonderful -- of coz you can't compare it to the multi-billion-budget Hollywood movies. The mood is right, the young girl's acting is superb, the old man's acting is good, the main actress' acting is... errr... forget about it... :P
ok ok, i have to admit the last scene of the movie has gone over the top... ok ok, even the 2nd last scene is a bit cliche... ok ok, so the pace of the movie especially in the "wonderland" is draggy like hell... (ok ok, i know i mumble too much without reviewing much about the plots, character development blah blah blah)... but so what, i enjoyed the movie, i got my own imagination running throughout the film, and that's enough for the price of a ticket.
rating: 6.5/10