2 years ago, i returned to Penang with this black and white cert - which stated the peak is 4095.2m, but i only managed to hike up some 3272m...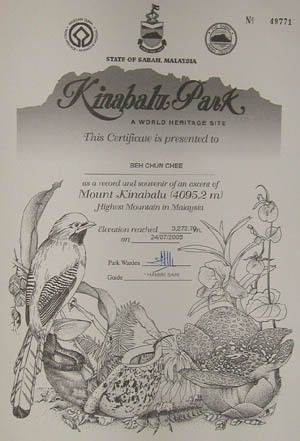 i didn't really felt defeated, cause i knew myself, i am just not fit to finish that task.
so 2 years later, last week, i returned to KL with this beautiful full colored, embossed cert, that stated i have made it to the peak...
first, we have to register ourselves at the Kinabalu Park head quarter near Timpohon. and outside its office, we could see our destination quite clearly that day...
above the clouds, there where we wanted to go: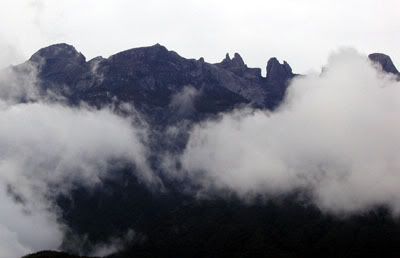 Mount KK summit.
taking the route as illustrated here in this postcard:
I took 3 hours from Laban Rata Resthouse (the brightest spot on the postcard), follow exactly the white dotted line to Low's Peak (the highest peak).
and shortly after the sunrise, on my way down Low's peak, i snapped this photo:
it is magnificent, no? this is the Kinabalu South peak. and i think this is the most beautiful peak of all.