24th October 2006
KLIA, me and my sister are taking Cathay Pacific flight from KL to HK. we were there around 3.30pm to catch the 5.55pm flight. Reached HK airport by 10pm to transit to Incheon by 12.20am.
so for 3 hours there, we wandered around the magazine shop where i bumped into some porn magazine that displayed shamelessly (haha), this amazed me! then we rest at the food court area... didn't buy any food, my sis slept for a while, and i was busy preparing my powerpoint presentation with my laptop there. it was so quiet, 90% of the stalls have already stopped their business for the day, the cleaning ladies came out to work. so we left that area and proceed to the departure gate 25 for our flight.
25th October 2006
The flight was on time. we had our supper on plane and i was hoping to catch "the lake house", but was too tired and dozed off. later about 3am i was awake by this severe headache, more like a migraine or electric shocks, that maybe due to the pressure change... didn't know i have that problem. but luckily we were about to arrive at Incheon in less than half an hour time... so i rubbed my head.
We arrived 3.40am or Korea time 4.40am, and in this early morning, me and my sister were stopped by the imigration officers and were detained for interrogation. i was so blurred i didn't know what happen but just follow the direction given by the officer and went into the room. later i saw my sister walked in too. the female officer hold a small microscopic lens and inspected every single page of my passport, same thing to my sister's too. the male officer who's infront of my sis kept on asking her what's her purpose of going into Korea. i found the whole thing funny though. after about 10 minutes i finally realized i could be held here for a long time... so i asked the lady what seems to be the problem?... then only she threw me a smile and explain that Malaysian passports are easy to forge. mmm... so by then i was a suspected "jump aeroplane" person. then finally she asked me the million dollars question of why i went to Korea, so i answered her for conference. her eyes sparked a bit and asked for any documentation to prove, for that i passed her the invitation letter of the conference. then another officer (of higher rank) was called in and after a while we were released.
about 5.30 in the morning, nothing was opened, we wandered the airport to familiarize ourselves and to look for any information booth. the first thing we did is to rent a handphone of GSM system and insert my sis's sim card in. Tada it works wonderfully, it was so easy.
Then we found a spot and sat down, can't sleep at all... i guess we were too shaken by the imigration drama. haha. we waited until 6.30am when most of the counters and shops started business. we approached a few airlines like Korean Air and Asiana Air for tickets from Gwangju to Jejudo after my conference, but to my surprise they were ALL FULL... which made us panicked cause it would ruin and totally change our traveling plan...
Here is our original plan:
25/10 - morning take bus to Cheongju, reach there by afternoon for Hotspring and flower rice. evening take bus to Namwon to stay a night.
26/10 - morning going to Jirisan national park to hike and to experience autumn red maple forest. afternoon take bus to Gwangju and i'll be able to attend the welcoming dinner.
27-29/10 - my conference. then by 29/10 evening we take plane to Jeju
30-31/10 - tour around Jejudo and shall take the earliest flight on 31/10 back to Seoul/Gimpo airport, then the rest of the day until 1/11 will be at Seoul before our flight back to Malaysia on 11am.

but now, if there's no ticket from Gwangju to Jejudo, we sorta wanna change our plan to go Jejudo first then take a reverse plan to tour all the way up north... so we checked with airline and it seems that all flights to Jejudo from Incheon was also FULL until late evening.... OMG!!
We got panicked, until 7.30am when the famous travel information booth opened, we quickly ran there to seek for advice... i shall skip all the craps... and go straight to 8.15am... yes, we spent 45 full minutes there asked this and that... there must be 10 different plans, and we finally settled to go to Cheongju by airport limousine bus (original plan). the girl at the counter was very helpful. she phoned to another person and confirmed that there's a direct bus from Cheongju to Jirisan national park and we can stay a night at Baemsagol Valley which is located inside the Jirisan. she pointed us to the correct gate and taught us patiently how to buy ticket from which counter and how much... so we just followed and finally got our tickets 8.30am... then only we realized we were so HUNGRY. my sister quickly ran to a shop to buy roti and milk while i went to find the correct bus and hold it. it was a pain in the a** for there's no English word at all and people there don't speak English at all. so i have to compare the Korean words printed on my ticket to every bus and finally found it... my sister ran in on time and the bus left punctually 8.30am... phew....
the girl at the information booth told us it will take 4 hours to reach Cheongju, so we expected to reach there by 12.30pm. so we slept and slept. i woke up around 11am, and just a while later we arrived at Cheongju...
WAIT A MINUTE... aren't we supposed to only reach here by 12.30pm?? how come now only 11.20am dah sampai pun??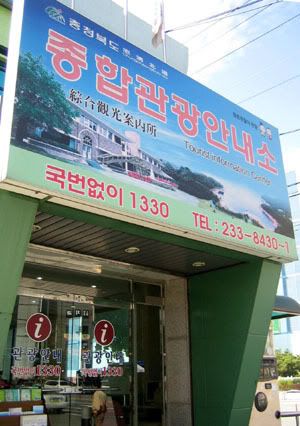 anyway, since we were already here, so nevermind lah, early is better than late mah... we didn't suspect anything wrong. then just when we stepped down the bus, we saw another tourist information center, so we happily went in hoping to get more information. the girls inside the center were so so helpful and friendly. only 1 girl - i think called Minghyang or MingYung or something, their name sounds all the same... - who can speak good English. and shockingly to us, there's NO direct bus from Cheongju to Jirisan as been told to us by the girl in Incheon!!!! *add thunder storm sound here*
So, we showed Minghyang the plan laid down by the Incheon girl, and she told us laughingly that we have come to the WRONG city!! the Incheon girl meant "Jeonju" and not "Cheongju"... pengsan terus...!!! no wonder so fast reached liao lah, kononnya Jeonju is yet another hour away from Cheongju... GOODNESS!
But not to worry, Minghyang said, since you are here might as well visit some of the tourist spots here lor... she recommended some fortress and paper museum, but we were having the hotspring and flower rice in our mind. then she checked checked and come back to us with yet another shocking news - if we want to catch the last bus to Jirisan, we only left a little less than 1&half hours in Cheongju, which means hotspring and flower rice are just too far from us!! so we suggested take taxi there, we rather pay more money than doing nothing there... so this very helpful girl walked us to the taxi stand across the road and checked with the driver, and again we were so disappointed to find out that to take taxi to the flower rice will take us 20 minutes, to and fro 40 minutes, which means we only have less than 40 minutes... sigh...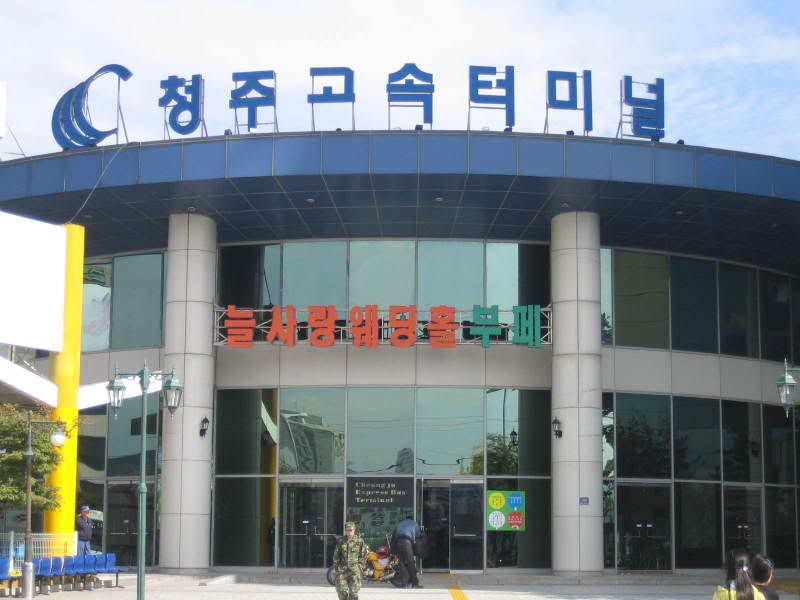 no choice, Minghyang then suggested us to take bus to the nearby paper museum. we waited at the busstop where i suddenly miraculously know how to read Korean words on the electronic board and found out we have to wait for another 22minutes before the next bus arrived. i confirmed it by miming to the ajumma (aunty) there... so me and sister decided not to go anywhere but to find ourselves some lunch and hop on to the earlier bus to Jeonju then to Jirisan.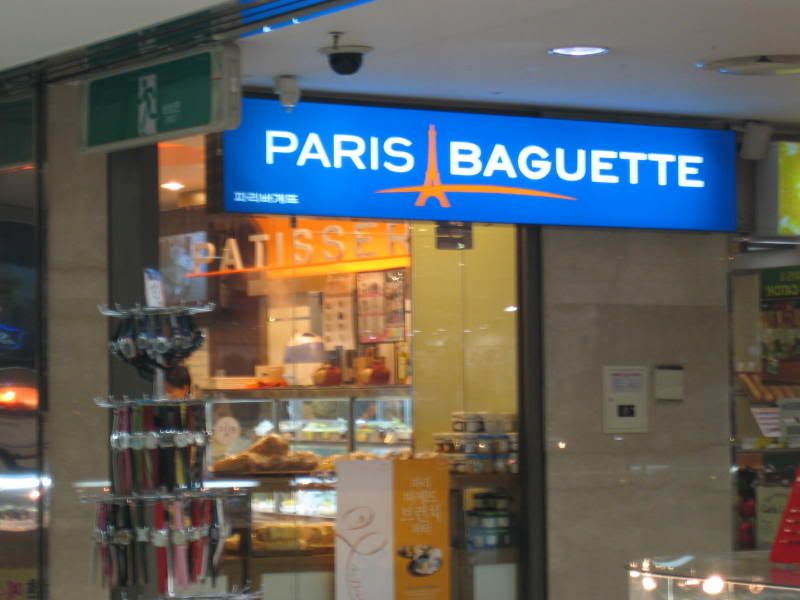 We went to the nearest shopping mall, if not mistaken it's LotteMart... and immediately my sister was all hyped up! why? because she found a bakery called "Paris Baguette", not because the bread there are of any special but because the spokeperson for the bakery is Hyun Bin - her idol. she snapped snapped some photos, and the ajumma inside started to giggle and a few of them started to gossip. we left the bakery without buying anything.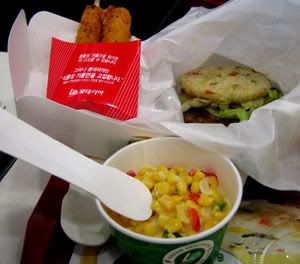 then we stopped by a fastfood restaurant because we can't find anything decent to eat. so we decided to have something safe. it's called Lotteria, and we have a rice burger with some cheese roll and mixed salad. quite yummy the rice burger. not bad not bad. for 2 sets of the meal, it costs us Won8500, which is RM34 (expensive also hor). only problem is we went thru hard time explaining what we wanted to order cause again they don't speak English not even a single word... sigh...
Then we went back to the information center, told Minghyang that we didn't go anywhere, she was so surprised... we took our bags and laptop that we left there earlier and proceed to the bus terminal.
This time we were extra careful when purchasing ticket, cause we didn't want to end up in Seongju or Keongju. so we have already asked Minghyang to write us our destination and plan in Korean on a piece of paper.
We went to the counter and showed them the paper and asked for 2 tickets. and this time we were quite sure we got on the correct bus. i think we must have left Cheongju around 2pm. We should reached Jeonju 3.30pm so that we can catch the 2nd last bus to Baemsagol by 3.30pm too, or else we would have to wait for the last bus which was 5.05pm... and yes, that day must be our unlucky day, we reached Jeonju 3.35pm, and the 2nd last bus has left....
to be continued...